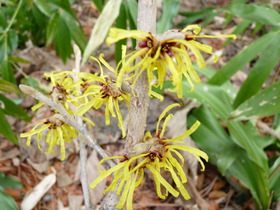 Discover the over 40 outdoor gardens at Denver Botanic Gardens. Every day brings new blooms, fruit and vistas on the 20+ acres.

The listed plants are ones selected for their flowers, fruits and color in late winter and early spring. Where the snow has melted, bulbs are starting to emerge and flower, especially the early Iris and Crocus cultivars. Species tulips, daffodils and many shrubs will be soon to follow.

Tour updated March 26, 2020.