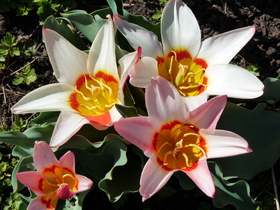 Discover the over 40 outdoor gardens at Denver Botanic Gardens either in person or from the comfort of home. Every day brings new blooms, fruit and vistas on the 20+ acres.

The listed plants are ones selected for their flowers, fruit or leaf colors, or texture in mid spring.While the weather has been more wintry than spring-like for much of April, many flowers are starting to burst throughout the Gardens. Flowering trees and shrubs are a bit delayed compared to some years, but soon we will be enjoying a fiesta of crabapples, lilacs and viburnum flowers throughout the outdoor gardens. Bulbs continue their spring show - be sure to sniff the air for the sweet smell of hyacinths - and see how many colors of tulips you can see during a visit. Many herbaceous perennials are also at their best in April and May

Tour updated April 26, 2021.