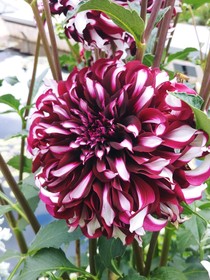 Discover the over 40 outdoor gardens at Denver Botanic Gardens either in person or from the comfort of home. Every day brings new blooms, fruit and vistas on the 20+ acres.

The listed plants are ones selected for their flowers, fruit or leaf colors, or texture in mid to late summer. August brings us to the height of summer for many plants in our displays: Waterlilies, annuals and dahlias are at their peak of bloom, ornamental grasses begin blooming, and you may even detect hints of fall color on trees or shrubs as we near month's end. The fruit on many of the trees and shrubs are ripe now as well and you may witness squirrels or mice storing food before winter visits.

Tour updated September 10, 2021.