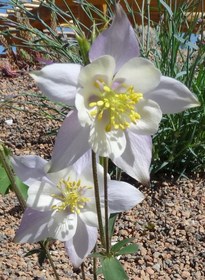 Explore our gardens that highlight Colorado native plants and ecosystems and learn about the species researchers here at the Gardens are helping to conserve. We work with roughly 70 of the state's most rare and imperiled plants through surveys, monitoring, genetic studies, and seed collection. Most of these species are endemic to this region (they can be found nowhere else in the world) and in most cases, The Gardens is the primary entity working to conserve these species.

Long-term studies, some nearing 20 years, take our researchers all across the state of Colorado to study and protect our rarest plants. Of the 3,000 plants native to Colorado, over 120 are rare and imperiled. The Research and Conservation department collects seeds of Colorado's rare plants. The seeds are available for future necessary restoration projects, and for research projects, including developing best germination protocols for each species. You can see several imperiled or endemic plants of Colorado and the Rocky Mountain region in the Endangered Species Garden, including tufted evening primrose (Oenothera caespitosa), Front Range twinpod (Physaria bellii), Cathedral Bluff meadow-rue (Thalictrum heliophilum), and Colorado butterfly plant (Gaura neomexicana ssp. coloradensis).

Check out distinct Colorado ecosystems in Western Panoramas, including the High Plains/Riparian habitat of the Grant Family Cottonwood Border, the Foothills/Ponderosa Pine habitat, and the Subalpine/Bristlecone Pine habitat. These three habitats are located around the UMB Bank Amphitheatre. Each border represents a stylized version of a classic habitat found in Colorado with an emphasis on grasses, wildflowers and signature trees native to these ecosystems.

In the east border focusing on ponderosa pine habitat, in addition to Pinus ponderosa look for these other native plants: front range beardtongue (Penstemon virens), big sagebrush (Artemesia tridentata), Gambel oak (Quercus gambelii), lodgepole pine (Pinus contorta var. latifolia), Colorado blue columbine (Aquilegia coerulea), blue spruce (Picea pungens), and quaking aspen (Populus tremuloides). Also look for the rare Degener's beardtongue (Penstemon degeneri), one of many rare penstemons in Colorado.

The south border features bristlecone pines (Pinus aristata), Idaho fescue (Festuca idahoensis), and aspen fleabane (Erigeron speciosus). Finally, the west border features plains cottonwoods (Populus deltoides ssp. monilifera), Rocky Mountain zinnia (Zinnia grandiflora), blue grama (Bouteloua gracilis), rubber rabbitbrush (Ericameria nauseosa var. speciosa), and Colorado four o'clock (Mirabilis multiflora).

The Laura Smith Porter Plains Garden proudly maintains a living example of what Denver and the Front Range were like prior to development. With a few exceptions, seeds were obtained from areas within 30 miles of Denver, representing the beauty of local genetic material. The major family represented is Poaceae, the grass family. Signature plants include blue grama grass (Bouteloua gracilis), buffalo grass (Buchloe dactyloides), spotted gayfeather (Liatris punctata) and tulip gentian (Eustoma grandiflora). Our most sustainable garden, this garden thrives on natural precipitation alone and is resistant to cold, hail, drought and heat. The Plains Garden encourages conservation and appreciation for fragile and threatened native prairies, including tallgrass, mixed-grass, shortgrass, sandhills, wetland and riparian habitats. The garden provides some of our best examples of how to create regionally-appropriate gardens and habitats for wildlife, and inspires appreciation for our native landscapes.

The Rock Alpine Garden includes plants from the Rocky Mountains in addition to other mountain ranges around the world. Alpine plants in nature are threatened by global climate change and human-caused destruction. Alpine ecosystems are also extremely fragile.

Dryland Mesa demonstrates the large diversity of plants that can be grown without supplemental water. Designed in 1986 by Gayle Weinstein in collaboration with the Denver Water Board, Dryland Mesa was the first public garden to portray the concepts of Xeriscaping. The garden showcases, in a naturalistic setting, plants native to arid regions of the West, especially from the Madrean floristic province. This garden has not been watered since 1997, except for new plantings that have been watered by hand. Notable plants in this garden include kingcup cactus (Echinocereus triglochidiatus), Colorado hookless cactus (Sclerocactus glaucus), and Spanish bayonet (Yucca harrimaniae).